Sit back, stay warm, and let us worry about the snow. We're ready for it. Are you?
MW CONTRACTING offers residential and commercial snow removal for Markham residents during the winter months.
Relax and enjoy the peace of mind knowing that your driveway or business will be professionally maintained all winter season long without the stress and physical requirements of doing it yourself. ONLY SERVING MARKHAM.
Our tight service area allows for a quick response time to your home or business. With 5 snow removal trucks and salters, only serving Markham, we can ensure that your driveway or business will be plowed promptly and professionally during the treacherous winter months.
MW CONTRACTING continuously monitors weather conditions throughout the winter season; our staff is on call 24 / 7 and is immediately dispatched during a winter storm.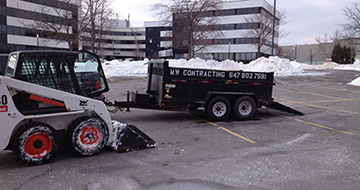 Want a Quote or Expert Advice?
If you need a quote on your next project, feel free to contact us and we'd be glad to help.