Free In Home Estimate & Free Custom Landscape Design.
A beautifully landscaped yard can maximize your outdoor living space and transform it into a beautiful and functional retreat. Having our in-house landscape professionals design your yard is also one of the most cost-effective ways to raise the resale value of your home!
MW Contracting – Design / Build
Interlock Driveways
Retaining Walls
Flag Stone
Planting
Patios
Steps
Irrigation
Garden Bed Construction
Walkways
Armour Stone
Sodding
Fences & Decks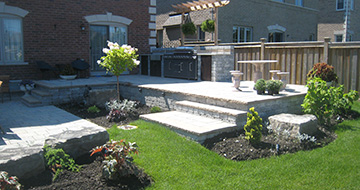 Want a Quote or Expert Advice?
If you need a quote on your next project, feel free to contact us and we'd be glad to help.