Swimming Pool Fill-in – Reclaim Your Yard This Spring!
Do you have an unwanted swimming pool taking up space, time and money in your backyard? We can provide a quick, efficient and affordable swimming pool demolition and have filled in hundreds of swimming pools throughout the GTA and southern Ontario.
The cost of upkeep and maintenance can far outweigh the costs of removing the swimming pool entirely. Our average time for demolition and fill in is 5 days… Including demolition, removal, fill grading and sodding. We also offer a number of landscape construction services if you are looking for more than just grass as a finish for your yard. We have professional designers that can create a new vision for your backyard and a team of dedicated employees that can execute that vision.
Our prices are very competitive, our methods are efficient and we recycle the majority of the pool. Please keep in mind that every pool fill in is different, depending on access to your yard, size of the pool and the way the pool was constructed. We will provide you with a free custom estimate tailored to your yard.
Demolition and removal of existing pool
Fill in using quality aggregates
Compact to insure to settling over time
10 year warranty
Reliable
Clean
Professional operators
Fully insured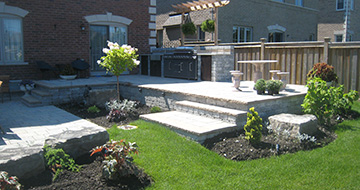 Want a Quote or Expert Advice?
If you need a quote on your next project, feel free to contact us and we'd be glad to help.